As an Amazon Associate we earn from qualifying purchases.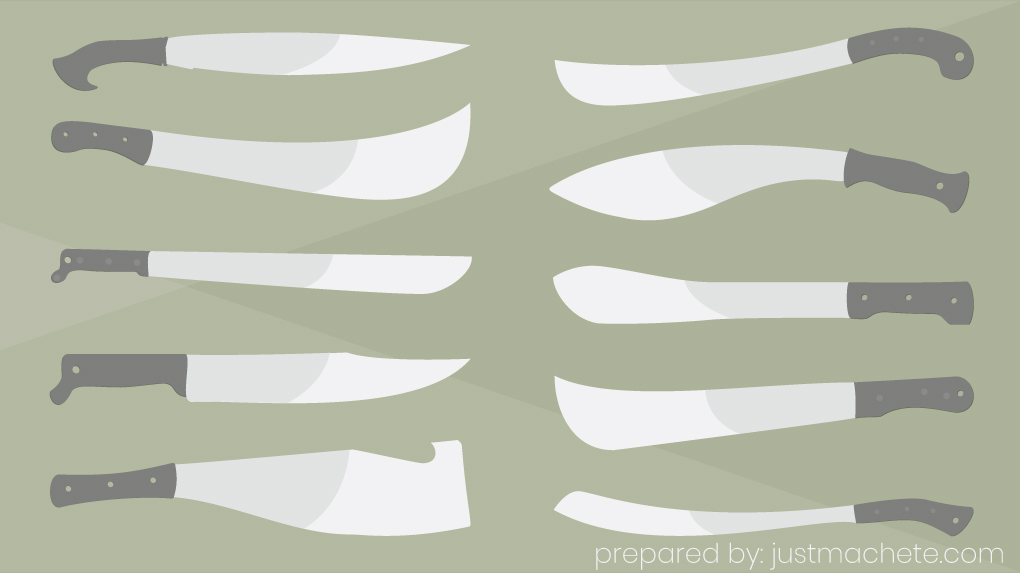 How many different types of machetes are there! You may wonder. Well, you won't be blamed if you do because there are actually so many of them. Throughout its astounding history, this wonderful tool has evolved quite magnificently and the world has seen some unique types of machete blades so far.
All over the world you will find different kinds of machetes based on their origin and uses. Each one of them has their own uniqueness by possessing distinguishable shapes and sizes. And why is that? Because machete types and their uses have a very close connection. Each one of them has been designed to get benefit in different situations.
So let's explore the world's top quality machetes and find out their ultimate fields of uses. Here we will talk about the most common types as there are so many of them!
Table of Most Common Types of Machetes
| Sl | Machete Type | Origin | Blade Shape | Best for |
| --- | --- | --- | --- | --- |
| 01. | Barong Machete | Philippines | Leaf-like | Hunting, livestock slaughtering |
| 02. | Billhook Machete | Unknown | Hook-like | Agriculture |
| 03. | Bolo Machete | Philippines | Straight and curvy at the tip | Cutting grasses, breaking coconuts |
| 04. | Bowie Machete | USA | Knife-like and pointy at the tip | Survival, hunting |
| 05. | Bush Machete | Latin America | Straight | Outdoor works |
| 06. | Cane Machete | Latin America | Wider towards the tip with unique hook | Cutting sugarcane |
| 07. | Golok Machete | South-East Asia | Regular curved | Chopping and shaping woods |
| 08. | Kukri Machete | Nepal | Knife-like and curved at the middle part | Survival, combat |
| 09. | Panga Machete | Africa | Versatile | Chopping and piercing |
| 10. | Parang Machete | South-East Asia | Regular Curved | Chopping, batoning |
Machete Types
There are so many popular machetes around the world. Among them, some have earned widespread recognition because of their unique shape and versatility of use. Others are also popular in their respective regions or locals. So, let's explore how many different types are there out in the fields.
01. Barong Machete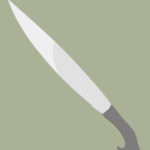 Barong machete is known all over the world for having a thick and leaf-shaped blade which is also single edged. The origin of this unique blade is the Philippines and many ethnolinguistic groups out there have an ancient history with this machete. Usually, they are heavy and slicing power of the blade is quite amazing!
Uses
The most common use of this type of machete is hunting and livestock slaughtering. It can also be used for clearing bushes and vines. In its place of origin, people use it in combat and martial arts.
02. Billhook Machete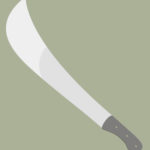 Billhook machete is known as a traditional tool for agricultural uses. Its origin is debatable but in Europe's wine-growing countries it is widely available.  Its heavy blade has a straight shape near the handle but a big curve towards the end part. Traditionally the blade is sharpened on the inside but both side sharpened ones are also available.
Uses
This Billhook machete is a superb agricultural tool. They are very useful for gripping and cutting vines and trees with its inner curve. Also, a heavy amount of shrubs and brambles can be cut smoothly with these cool machetes.
03. Bolo Machete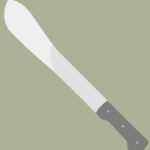 The Bolo machete is another Pilipino origin blade which is also used widely in Southeast Asia and in the United States. It has a relatively wider blade tip that allows an extra momentum for chopping. There are also different types of Bolo in the market as it has so many uses. One popular item is the jungle bolo which is specially designed for combat.
Uses
Bolo and their uses cover quite a ground. It can be used for breaking a coconut, cutting grasses or for slaughtering animals. You can also use it for weeding, digging roots out, harvesting rice and self-defense.




04. Bowie Machete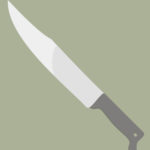 This Bowie machete is from the United States and named after Jim Bowie, an American frontiersman. Since its first introduction, it has been designed in several types and is very popular among the survivalists all over the world. It is more like a combination of the popular Bowie knife and machete. The pointed tip of the blade makes it a real deal in survival situations!
Uses
It is one of the best survival blades which is widely used by the outdoorsmen and hunters. Also, it can be a very good camping tool by being an excellent chopper.
05. Bush Machete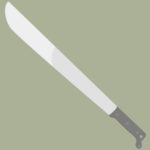 Bush machete is also known as Latin machete or Collins machete. Some people call it a traditional machete. This unique item is kind of an all-rounder. It has a long blade with little or sometimes no curve. The blade also may have a wider shape towards the tip. It has a similarity with katana machete because of the straight-shape.
Uses
As mentioned earlier, this type of machete can perform in a wide range of areas. Most importantly this blade can be successfully used for most of the outdoor works.
06. Cane Machete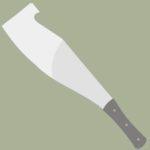 Cane machete is a hand wielded cutting tool prevalently used for cutting sugarcane in most South American countries and also in some other parts of the world. It has a wide blade area like the Heavy machete but has a unique hook attached at the backside of the tip which isn't like the saw back of Gator machete. That is why Cane machete and Heavy machete are so closely associated. Both types are forward weighted and have significant momentum when any blow is made.
Uses
As the name suggests, this big guy is a specialist in cutting sugarcane. It can also be used for cutting plants, bamboo and other paddies like stalks. The heavy machete can be used for all similar level tasks. Besides its dull tip can be used for chopping purpose.




07. Golok Machete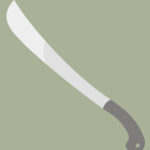 Originated from South East Asia, this awesome machete is a heavy built tool. It has a solid body that acts as a chopper. Similarities can be found between the Golok and the Parang machete. It is much heavier and shorter than the Parang. In the Indonesian culture, it is considered as a symbol of masculinity.
Uses
For heavy chopping and shaping big wooden parts, this machete is used with great comfort. Also, it can be very handy for backyard cleaning and clearing bushes.
08. Kukri Machete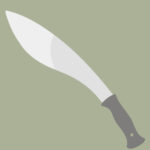 The Kukri machete is probably the most popular of all machetes. Though its origin is from Nepal but has become a day to day tool in the United States and other countries. It has a unique curved shape that is very distinguishable and provides some awesome features than other machetes. There are many famous manufacturers who make the top-notch Kukris for the money. And there is a competition amongst them to be the best Kukri brand.
Uses
Kukri machete can be very useful for camping purpose when you need a tool for batoning woods, collecting bushes and making a fire. The most common uses are in survival situations and for combat. Many militaries in the world use Kukri machetes for their survival mission. It really can be a super tool if you can make the most use out of it!
09. Panga Machete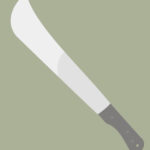 Panga machete is from the wild Africa which has some similarities with the Bolo. But its tip is rather sharpened and tends to be a bit heftier having a deep belly with a slight curve. It is very common in the Caribbean region. The shape of the blade provides a very strong chopping power by having a concentrated force. It has a close relative named Tapanga originated from the same neighborhood of Africa.
Uses
Panga machete can be very effectively used for chopping vegetation and woods. Its piercing power can be used for accomplishing lot varieties of work.




10. Parang Machete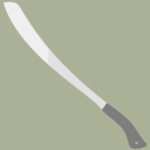 Parang machete comes from South East Asia and has a relatively long blade. It's a popular machete across the globe and is a very handy tool. It has a similarity with the Golok but differs in slenderness and curve. It is curvier and longer than the Golok. There are different types of Parang machetes produced by the manufacturers because of its popularity.
Uses
It can be used for chopping woods, vegetation, and other stalks. Among the varieties of machetes, this tool can take a lot of heavy beating. In the wilderness, this cool machete can be a true friend!
Conclusion
These are the most common types of machetes that are available throughout the world. There are also many items that you will find if you dive into this vast field. Each one of them serves some unique purposes. So before buying any blade, do research first to pick the best machetes for you.




Amazon and the Amazon logo are trademarks of Amazon.com, Inc, or its affiliates.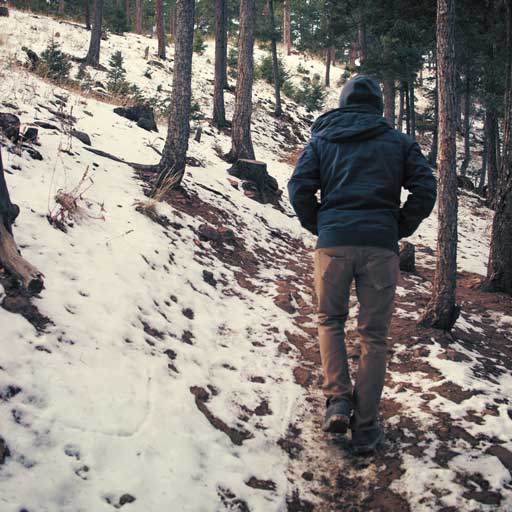 Danny is an avid hunter and outdoorsman who just love the wilderness. He learned the surviving techniques from his predecessors and became the skilled man of today. He is a family guy who loves his family dearly. From an early age, he became very fascinated with different survival tools among which machete was one of them. This website is for sharing his knowledge and skills for those who feel a close bond with nature just like him.