As an Amazon Associate we earn from qualifying purchases.
Every tool needs maintenance and machete has no exception. The more you take care of your tool, the more it will serve you and accompany you. Say, you have already bought a top-quality machete. But only having a great tool is never enough. You must have to know how to care and maintain your machete, how to clean a blade etc. In this article, we will talk about it with detail guidelines and some awesome video instructions.




Every machete has three basic parts. They are the blade, handle, and sheath. All part needs their respective care. After covering their different maintenance procedure, we will also discuss how to clean your blade and some bonus stuff. Let's jump into it!
The Guide On How to Clean a Blade
Blade Care
Mainly three types of steel are used to make machete blade. They are carbon steel, stainless steel, and high carbon stainless steel.
Carbon Steel Blade Care
Carbon steel blades are the strongest. But it can get rust quite easily. Though the blade holds an edge for a long period of time, it is hard to re-sharpen quickly. So you should
Oil the blade on a regular basis
Keep away from moisture
Always sharpen after using for a while
Stainless Steel Blade Care
This type of steel is impressively rust-resisting. That means it needs little care. But it holds an edge for a short period of time. So you have to
Sharpen very often
Oil sometimes, but not very often
High Carbon Stainless Steel Blade Care
It is a combination of carbon steel and stainless steel. So you will get both types of benefits and have to care very little.
The important thing that should be kept in mind is your requirement. If you need something decorative, rust-resistant you should go for a stainless steel blade and if you need a blade that holds an edge long enough you should go for carbon steel.
Handle Care
Best machetes come with the most ergonomic handle. The material of a handle can be of various types like micarta, hardwood, rosewood, polypropylene, rubber, molded plastic, leather, etc.
Plastic handles are almost carefree. While the wood handle is vulnerable to moisture. In case of the wood handle, it can be protected from moisture by the periodic appliance of lemon oil or furniture polish.
Rubber or textured handles are very comfortable and have a good grip. They feel soft in the handle. Due to their lightweight, they can get worn out because of wear and tear. So you should not abuse them excessively.
Micarta handles are very durable and made of from a composition of linen, canvas, paper, fiberglass, carbon fiber, etc. Since it is strong and durable, it costs more than other types.




Sheath Care
Without a workable sheath, you cannot maintain your machete well. Besides, without a sheath, it is really tough to carry a machete while going outside. Most of the machetes come with a machete, even if the sheath is not so outstanding. In fact, cheap machete doesn't come with a great machete and vice versa. But you can definitely make a custom sheath of our own.
You should keep your sheath away from moisture and fire. Don't abuse your sheath. Always try to avail a sheath with D-loop. It will ease the outside carry with your belt. If budget is not an issue, always go for a pricey machete, since with a good price you will get a decent sheath.
Don't leave your sheath in the rain or in the sun
Draw your machete out from sheath carefully
Don't apply any solvent while cleaning the sheath
Only use a damp cloth to clean the sheath
How to Clean Your Blade
If you follow the above-mentioned tips, your machete will remain free from rust for a long time. But in case of rust, you should clean the rust as soon as your machete get some. You can find various ways on how to remove rust from a machete. Although, machetes with saw-back may be a little tricky to clean.
One of the most worth trying ways is,
Spray enough amount of WD-40 on the machete
Leave it like that for about 10-15 minutes
Rub with sandpaper or alike things.
Dry with a paper tissue
There are some other ways too.
You can use "rust erasers". Rust erasers are basically cheap stones. You can use them for all types of tools like scissors, shovels, etc.
Another way is,
Use aluminum oxide paper to sand away the rust
Apply some phosphoric acid-based rust erasers
After removing rust apply some oil to prevent further rust
How to Restore a Dead Machete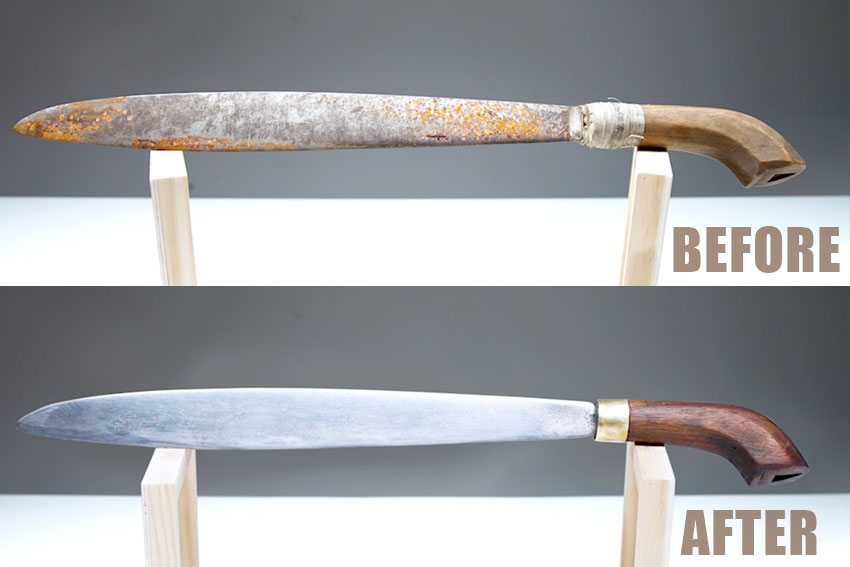 In the worst case, your favorite tool will die in front of your eyes. In that case, you will be the culprit who let the tool die. Now your machete has lost its edge, got rust everywhere on the blade, the hilt is almost gone and so on. But don't worry, even in this situation you can restore your machete.
You have to clean the rust first. Then the blade is ready to be sharpened. You may also need to take care of the sheath. And finally, you have to fix the hilt if it is required. I think a live example will help a lot.
Here is a real-time example.
Conclusion
The lifespan of a tool largely depends on how it has been taken care of. The blade is the main part of your machete. Right after choosing the perfect machete, you should learn how to clean that blade and use any stones or you may choose one from top-notch electric sharpeners. And then you have to start taking care of the blade, hilt, and sheath on a regular basis. You take care of your machete, it'll take care of you in a survival situation by being the perfect survival weapon. Wish a long life your mighty tool!




Amazon and the Amazon logo are trademarks of Amazon.com, Inc, or its affiliates.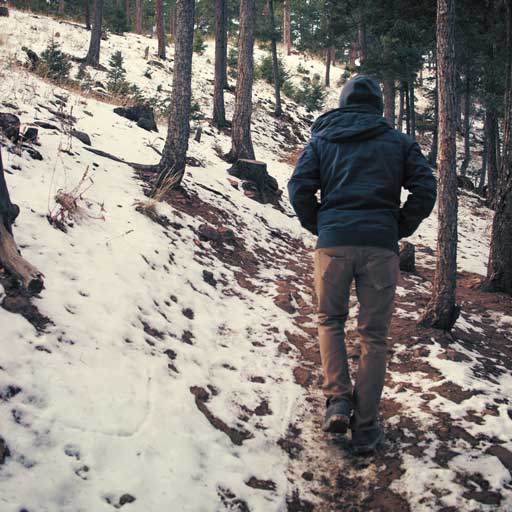 Danny is an avid hunter and outdoorsman who just love the wilderness. He learned the surviving techniques from his predecessors and became the skilled man of today. He is a family guy who loves his family dearly. From an early age, he became very fascinated with different survival tools among which machete was one of them. This website is for sharing his knowledge and skills for those who feel a close bond with nature just like him.